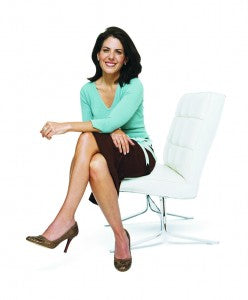 Jean Chatzky Blog
March 30, 2017 | 0 Comments
Posted By: Eve Pearl
Entrepreneur Fridays: Eve Pearl Cosmetics
WHO:Eve Pearl
WHAT: Five Time Emmy-Award Winning Celebrity Makeup Artist, Author of "Plastic Surgery without the Surgery," Founder and President of EVE PEARL®.
WHEN: 2007
WHERE: New York, NY
HOW: You wouldn't know it from the Emmy Awards lining the credenza in her Manhattan studio & boutique, but Eve Pearl doesn't come from the country's most impressive beauty school or institute of cosmetology.  Rather,  Eve's background is Wall Street, where she spent years working after studying business at Baruch College.   So how did Eve's ability to do beautiful makeup develop?  That may actually be genetic.  Decades earlier, before her family came to the United States, they immigrated from Soviet Georgia and then Israel.  Eve spent days at the heels of her mother who did hair and make-up for the Opera and Ballet at Lincoln Center.  It was during that time that Eve realized her true passion for makeup and launched her own career as a celebrity makeup artist.  Quickly, Eve established herself as a leading artist in the industry, where she showcased her talents on Broadway, the New York City Opera, American Ballet Theatre, ABC's "The View," and most recently, NBC's "The Today Show", where she serves as the on-air beauty expert, as well as Meredith Vieira's personal make-up artist.
As Eve established a reputation for being a celebrity makeup artist, she struck upon an idea.  "I felt that when I would do a makeover, a woman felt great that one day.  If I could teach them to do their own makeovers, they could feel great every day," she says. So she wrote a book, "Plastic Surgery without the Surgery", a comprehensive manual designed to help women replicate her techniques.  "However, after the book, women kept asking me where to find the products and items I was talking about."
 With the combination of business savvy and a fine eye, Pearl answered the call by starting her own luxury brand of makeup — EVE PEARL Cosmetics — right in her own two-bedroom apartment. She financed the start-up by selling her stock portfolio and taking out a small business loan for $25,000.  Sales primarily took place on her website, EvePearl.com, where helpful make-up tutorials have garnered a following.  Today, in addition to being an author and launching her own line of makeup, she has her own Makeup Studio and Boutique in the heart of New York City.  She also distributes her makeup line through other boutiques where professionals are trained to do make-up using the EVE PEARL method. The day I visited Eve in her studio, she had just taken possession of inventory worth seven figures.
The key to it all? Eve has found that keeping a close eye on the books — something she learned to do in school — and not quitting her day job have been instrumental to her success. "I've always had two jobs," she laughs.  "Sometimes more." Why?  As a single mother and the children of immigrants, she knows that working harder than other people is absolutely essential if you want to break out, particularly in this economy.  She also knows that you have to trust yourself enough to go with your instincts. "Everyone has a great idea," she says.  "But you actually have to do the hard work in order to succeed."
HER ADVICE:  "Find something that you love to do and find a way to contribute and give back.  That is the winning formula.  When you can emotionally affect someone's life, that is the core to a building a brand," says Pearl.