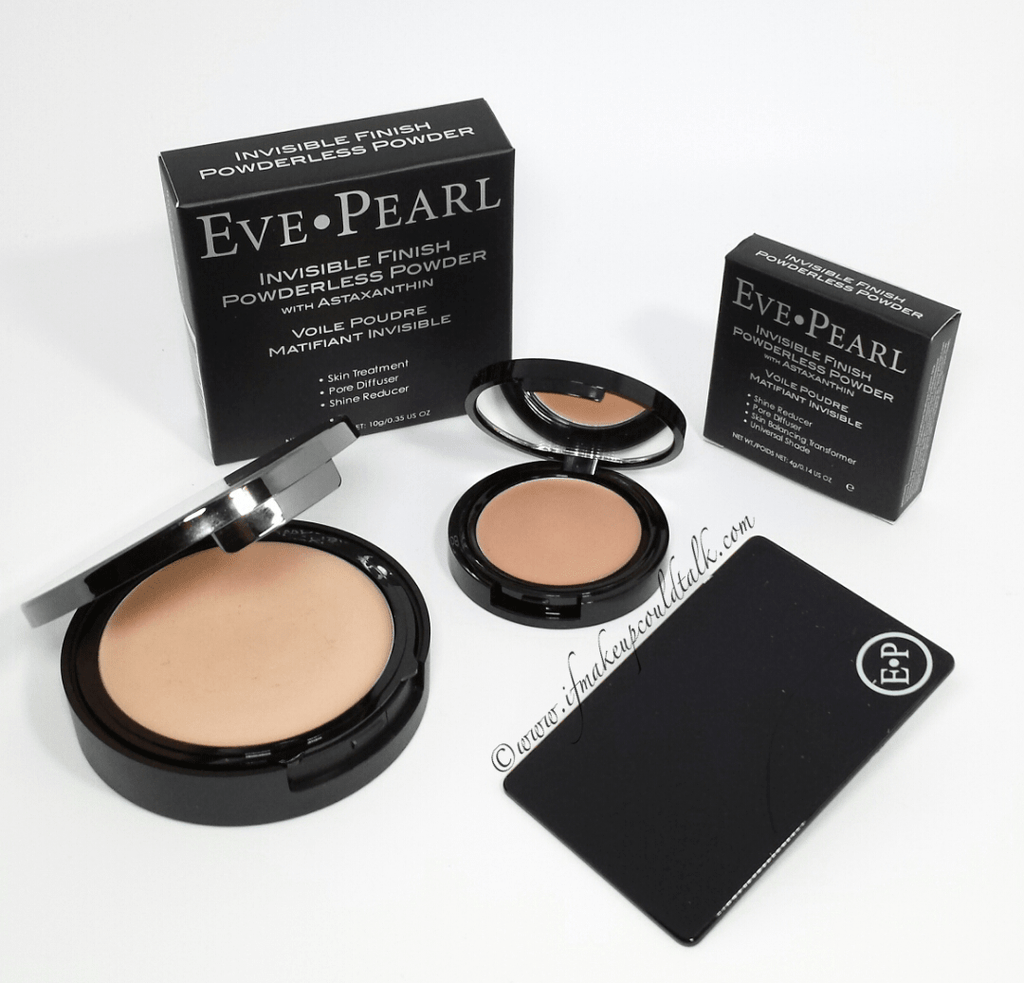 Eve Pearl Invisible Finish Powderless Powder review, photos and comparisons
March 29, 2017 | 0 Comments
Posted By: Eve Pearl
As we mature, our skin seems to loose that fresh-faced finish from our teen years. Some resort to plastic surgery to restore their vitality, others succumb to the modern allure of botox. Personally, my formula for preserving a youthful appearance is rather simple–consume real food in moderation, engage in some form of exercise everyday, moisturize, utilize a derma roller weekly, and invest in quality cosmetics.Eve Pearl Invisible Finish Powderless Powder($52 USD/ 10g) has proven to be a wonderful noninvasive tool that reawakens my look instantly. My adoration for this product is so profound, the travel size companion($39 USD/ 4g) was also shamelessly procured. I hope you enjoy.
Pros to Eve Pearl Invisible Finish Powderless Powder:
Silky smooth formula (almost like a cream) glides on skin and immediately mattifies skin without looking ashy.
Skin feels noticeably softer.
Pores and fine lines appear more diffused.
On my semi-oily t-zone, results last 6-7 hours.
For all skin types, "especially sensitive skins."
Contains Astaxanthin (Haematococcus Pluvialis Extract), a natural antioxidants and UV protector.Read about this amazing carotenoid (here).
The solidified mass appears to have a salmon colorant (Astaxanthin), but applies clear and is appropriate for all complexions and ages.
Product can be applied with a brush, the provided sponge or fingers (my preferred method).
Photographs beautifully without photo flashback.
Can be used on bare skin or over makeup.
Sophisticated compact is lightweight with a sizable mirror and a hinged compartment to store the sponge.
Vented base allows sponge to air out.
Very little product is needed–compact is sure to last a while.
Travel size version is the size of an eyeshadow compact and can fit in the smallest of handbags.
Oil free formula does not contain parabens, mineral oil, or fragrance.
Made in the USA.