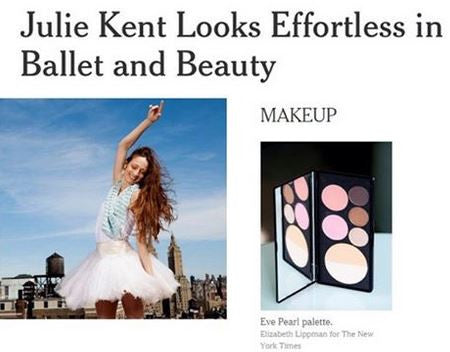 The New York Times: Julie Kent Looks Effortless in Ballet and Beauty
March 30, 2017 | 0 Comments
Posted By: Eve Pearl
I have three stages of makeup. There's my daily, which is for going to studio and working. I use Make Up for Ever concealer and tinted moisturizer with SPF by Nars. Because I have really sensitive skin around my eyes, I use only Aveda mascara. Sometimes when I use other brands, my eyelids get puffy and swollen. As far as lipstick, Nars has a great Velvet Gloss lip pencil. It's fast and not too makeup-y and gives you color. I like to have something I can share with my daughter, too, so I might have some really sheer and pale Bite lip glosses around. Bite is edible, so I feel it's relatively safe.
Then there's my midrange makeup, if I'm attending an event or going to a meeting. I use this wonderful palette by Eve Pearl. There are three eye shadows and two blush colors, and it's small enough that I can take it with me. I also really like the Bobbi Brown shimmer brick.
For the stage, it's a heavy cake foundation. You put it on with a sponge — we're talking complete coverage. Then comes powder and cake eyeliner with a brush and water — you have to do big lines around the eyes and maybe some contouring. And we always wear eyelashes. Eyes need to be expressive on the stage.