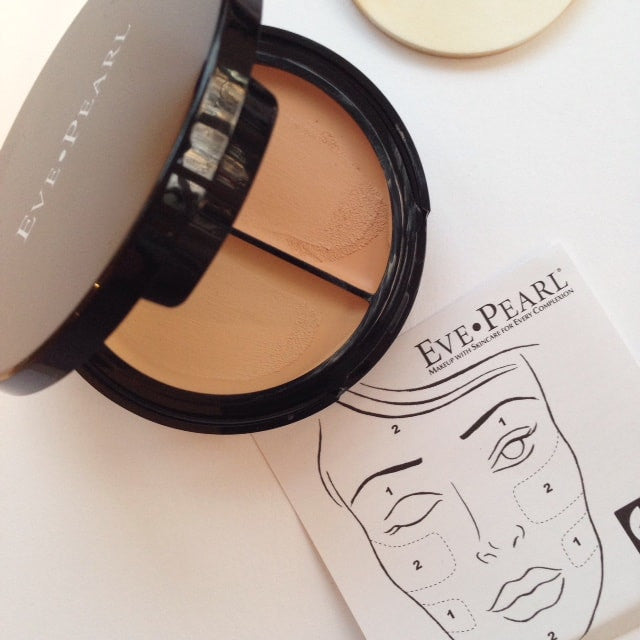 Eve Pearl HD Dual Foundation
March 30, 2017 | 0 Comments
Posted By: Eve Pearl
So, there's a little story behind this post! I was asked if I wanted to try Eve Pearl HD Dual Foundation and I said no because it looked faffy and annoying to do; the range is based on colour neutralising and contouring, or if you do it the Eve Pearl way, "reverse contouring". Jesus, I can't even do it the right way round. However, the PR was so sure I'd like it that it came anyway. Obviously, I hated it on sight…. until I tried it!
Eve Pearl HD Dual Foundation
As you can see, the cream foundation in two tones comes with a little diagram that tells you exactly where to put it. The paler shade goes on over the eyelids and the lower section of the face, the darker shade goes everywhere else. Absolutely simple, no brainer application method. Personally, I didn't like it under my eyes where it's supposed to neutralise blue, because it makes fine lines even worse, and it's absolutely no surprise at all that Eve Pearl's background is in theatre, TV and film. You can see there is a direct correspondence to what she's used there to the consumer product, and it's a wee bit 'panstick' in feel on the skin.
Eve Pearl HD Dual Foundation
See… those are two shades that really shouldn't work on my face.. but do! Once you've got the hang of the little sponge, the shades blend surprisingly easily (there are fat sponges and a brush so you can blend, blend, blend), so there's no way you look like you have two different shades at play. In fact, I think I would say it's very flattering and I seem to have accidentally contoured – rather brilliantly. There's no doubt that it's given definition to my face, and if you like a heavier weight foundation this coverage is delightful. Kinda film-starry! I'm so impressed. Also impressive is the colour line-up… lots of shades available.
The drawback, however, is that you get only a tiny amount – I think if you were doing this every day you'd whip through the palette in days.. there's a very large space for the thin sponge within the compact that gives the impression that there's far more product than there actually is. At £41.50, for the sliver of make up you get (along with the sponge and a brush) this would be for special occasion use only.
The product you're most likely to hear a lot about from this range is the 'salmon concealer' to neutralize blue under your eyes.. hope it's less line-making than the foundation.