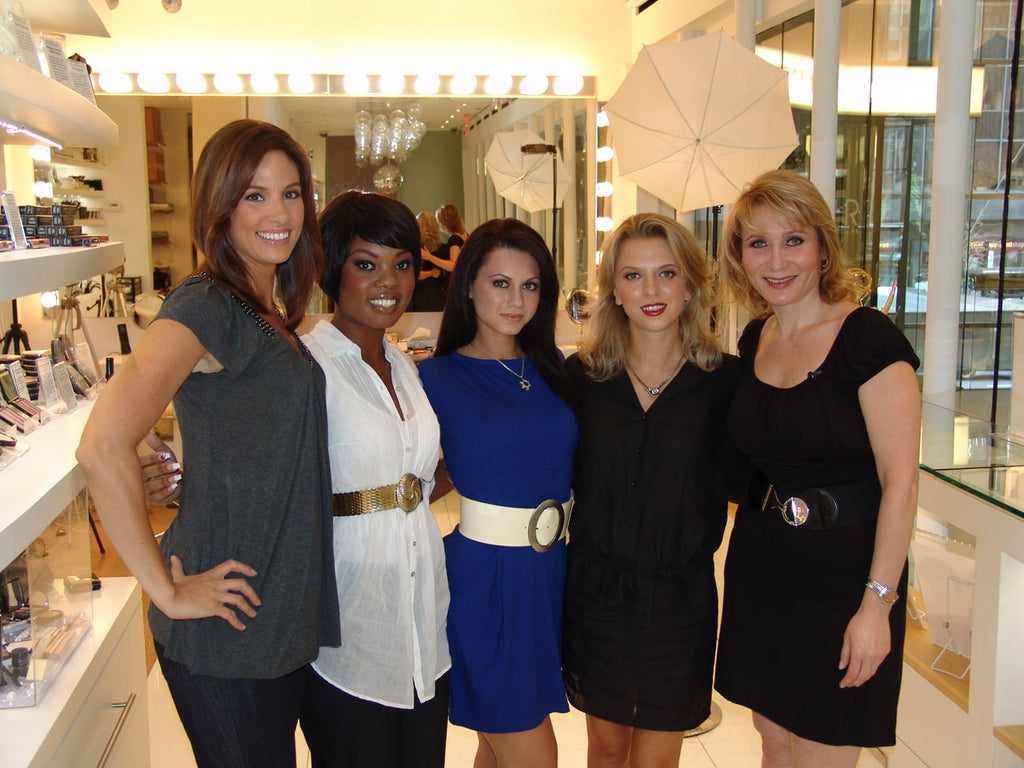 EVE PEARL APPEARS ON WNBC'S "TODAY IN NEW YORK"
March 30, 2017 | 0 Comments
Posted By: Eve Pearl
Eve Pearl Demonstrates Fall Trends and Celebrity Looks
New York — August 26th 2009 — On August 24th, Five-time Emmy award-winning celebrity makeup artist Eve Pearl showcased her "Fall Trends & Tips from a Pro" on WNBC's "Today in New York", hosted by Megan Meany, in a segment to be aired on a future date. Eve focused on the top makeup trends for fall and demonstrated the most sought after makeup looks of today's hottest celebrities - Megan Fox, Rihanna and Scarlett Johansen.
Look no further than the red carpet when you want to know the top trends in makeup. Celebrities are always sporting the latest trends and this fall is no different. From bold red lips, to smokey eyes, to defined brows, Eve shows you how to get these most coveted make-up looks, along with sharing her professional tips to ensure you are ready for the fall in no time!
Eve applied makeup to three models. She demonstrated three of the fall's top trends — bold red lips, dramatic black-lined eyes and defined brows - and educated viewers on her professional Eve Pearl methods.
Scarlet Johansson can always be seen with picture-perfect bold, red lips. To demonstrate this look, Eve lined the model's lips with a caramel/brownish pencil and then filled in the entire lip area with the same pencil. She then finished off the look with a bold red lipstick, focusing most of the color in the center of the mouth and spreading outwards to avoid any harsh edges.
"The pencil prevents the red tones from turning pink," explains Pearl. "You can also add a hint of gloss on top of the bold red for a more kissable look."
Added Pearl, "If your bold red color ends up too bold, you can apply a bronzy-toned gloss to calm down the color. This works on light and dark skin."
Eve also demonstrated the sought-after dramatic black-lined eyes most worn by Megan Fox and Rihanna. By using a black liquid eye liner on the top lash line, Eve created a bold, precise line. She then sloped the line upwards and slightly extended it beyond the outer corner of the eye to create a winged look.
"When doing dramatic liquid liner on the top lash line, it's best to skip liner on the lower lash line," said Pearl. "Mascara is sufficient on the lower lash line. This allows for all of the focus to be on your top liner making it super dramatic."
Lastly, Eve demonstrated the hot trend of defined brows on WNBC's very own Megan Meany. Using an angled brush, Eve colored in Megan's brows and traced powder along the bottom of her lashes to add definition.
"Intense bold brows are back," explained Pearl. "Defined brows can take an ordinary make-up look and transform it into a super polished look."
The EVE PEARL Makeup Experience Studio and Boutique is located at 805 Third Avenue in the heart of New York City. For more information, please visit www.EvePearl.com, email contact@evepearl.com or call 212-223-2229.