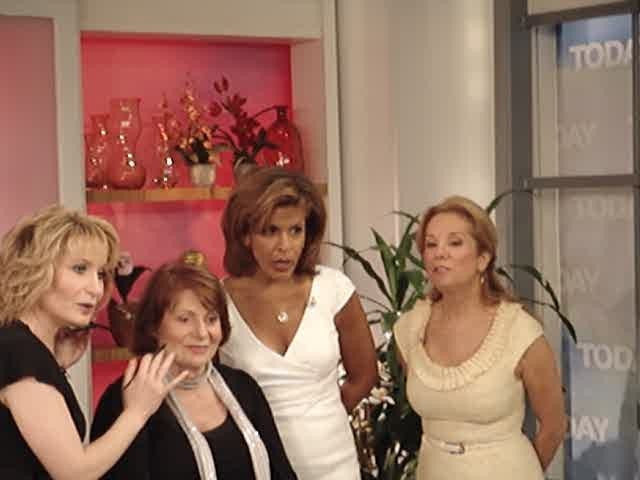 EVE PEARL APPEARS ON NBC'S TODAY SHOW
March 30, 2017 | 0 Comments
Posted By: Eve Pearl
Eve Pearl's Makeup 101 Segment Focuses on Eye Makeup
New York - June 5th2009 — Five-time Emmy award-winning celebrity makeup artist Eve Pearl delivered her Makeup 101 segment on NBC's TODAY show, focusing on "The Eyes".
Eve applied eye makeup to three models and educated viewers on her distinct Eve Pearl® High Definition techniques.
It is important to start with foundation on your eyelid, which holds the makeup together all day long. Then, the eyeliner can be applied.
"The biggest misconception everyone has is [about] eyeliner," said Pearl. "The one thing you are not supposed to do is use it as a pencil. You want to hold it parallel to your lashes."
Eve also explained smoking out the eye lids, which allows for the illusion of drawing a perfect line. Creating a straight line with eyeliner is very difficult, even for professional makeup artists, but smudging it with eye shadow can hide those errors.
"You don't have to be precise to look good," said Pearl. "If you do your eye makeup first, you can then clean up any shadows that fall on your face with your moisturizer before continuing with your foundation and concealer.
For older women, Eve explained that shimmer was good as opposed to glitter.
"When we get older, we want to achieve a bit more of a dewy look, which light illuminators and shimmer can help with, but not too much," said Pearl.
Eve's central message explained that the makeup techniques never change, only the color of the shadows and intensity. So you can go from simple to dramatic by using more jewel tones rather than natural earth tones.
Makeup 101 has many great take away values. Women are able to see the process several times over, for a specific area of the face. This allows for much better retention and visuals confirming the method works on different skin tones, face structures and ages. Eve's Plastic Surgery without the Surgery Makeovers are also highly rated with the cosmetic alternatives to plastic surgery.
This was Eve's second Makeup 101 segment on NBC's TODAY show. On April 21st 2009, Eve made her Makeup 101 debut, giving foundation and concealer tips.
From June 13th to June 15th Eve will be appearing at the International Beauty Show at the Las Vegas Convention. On June 20th and 21st, Eve will be appearing at the IMATS Beauty Show in Pasadena, California.
The EVE PEARL Makeup Experience Studio and Boutique is located at 805 Third Avenue in the heart of New York City. For more information, please visit www.EvePearl.com, email contact@evepearl.com or call 212-223-2229.