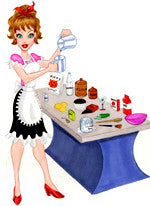 EVE'S HOME REMEDIES
May 02, 2017 | 0 Comments
Posted By: Eve Pearl
Eye drops will remove redness not only from your eyes but also from red blemishes. Freeze a drop in a spoon, place frozen over blemish and hold, it will shrink swelling.
Neosporin can help remove and heal acne overnight.
Toothpaste (white paste) will help heal acne breakouts.
Clay masks will draw out the black heads that tend to gather around the nose, by dehydrating the top layer of skin.
Cuticle scissors work well to trim those little nose hairs.
Fingers: Your most trusted tool. Can apply everything with them. (So, you don't have an excuse when you forget your kit). Concealer- the heat in your fingers will help melt a thick concealer into place (especially under the eyes). Can blend cream blushes. Apply lip balm or gloss on lips. Don't forget to clean your hands when going from one application/color to another.
Dab a Q-tip into Jell-O cherry flavored powder and apply to lips. Let sit for five minutes and lick it off. Will give your lips a natural red coat.
Toothbrush and Vaseline will exfoliate and plump up your lips.
Eucerin lotion over lips provides soothing therapy and holds lip color.
Try applying a yellow eye shadow as a primer on your lips. It will warm up and change any lip color.
Vaseline added to any shadow can make a gel blush or lip stain.
Extra Virgin Olive Oil (EVOO) - is a great makeup remover. Use a damp washcloth to remove the excess...it will clean and moisturize all in one.
Parsley will help freshen your breath from the inside. Parsley contains chlorophyll, which is found in Certs and Clorets.
Honey and baby oil combined and rubbed on the body will make it incredibly soft. Be sure to rinse it off before leaving the bath.
Milk will add a smooth texture to the body; try adding some to your next bath.
A quick weight loss tip: Take two garlic tablets and two papaya enzymes before every meal. You can lose up to 5 lbs in one week.
Instead of shaving cream, use hair conditioner to shave your legs. It will leave them silky and smooth, as well as save you a moisturizing step.
Rub sea salt over face and body. It will give an invigorating feeling.
Gently rub baking soda (3/4 cup mixed with 1/4 cup water) for three minutes on face and rinse off. A great, inexpensive exfoliator.
Adding about 1/2 box of baking soda to the bath will also soothe itching skin, irritation and a sunburn.
Epsom salts will ease aching muscles and swelling.
Lemon juice will whiten brittle fingernails.
Orange slices added to your bath will provide a natural and easy aromatherapy.
Fruit Jell-O will take away foot odor. Submerge your feet into a fragrantly colored bucket and enjoy.
Lemon, lime, honey, & yogurt can lighten age and sun spots. Mix the juice from 1 lemon, 1 lime, 2 tablespoons of honey and 2 ounces of plain yogurt. Massage into desired spots at least once a week.
Lemons and powdered milk can act like an exfoliator and skin rejuvenator. Mix a paste with the juice of 2 lemons to 1 cup of powdered milk and the water necessary to get a thick paste. Let stand for 20 minutes, and then use the paste to gently massage off dead skin around the knees and elbows. The area will be naturally softened and bleached.
Caffeine is the main ingredient in those expensive cellulite creams. Your regular caffeinated coffee grounds (used from this morning) can be rubbed into those annoying cellulite areas. Since this can get a bit messy, try doing it in the bathtub or shower.
Herbal wraps are easy to make. Create your own, similar to the ones offered at the expensive spas, by using 1 cup corn oil, 1/2 cup grapefruit juice and 2 teaspoons of dried thyme. Combine the ingredients and work the mixture into the thigh, hip and butt areas. Cover the areas with a plastic wrap, locking in the heat from your body. To accelerate the results, lay a heating pad for several minutes over the desired areas.
Vitamins E, A or C capsules (in gel form) from your local drug store, can be used instead of the costly creams with these ingredients in them. Prick open the capsule and add it to your moisturizer. You'll get all the benefits of the expensive creams without the extra chemicals or expense.
Hydrogen peroxide applied with a cotton ball makes a terrific astringent.
Pepto Bismol is a great face mask for sensitive skin. The same way it coats and soothes the stomach, it gently caresses the skin. Apply straight from the bottle with a cotton ball. Allow it to dry and rinse with cool water. It's soothing and refreshing.
Vodka & Lemon tones up tired skin. (1/4 cup Vodka and juice from one lemon) Dab on face, neck and chest area with cotton. Not necessary to rinse off. It will evaporate with the air. The less rubbing, the better. Mix a bit extra (with some sugar) and have a cocktail.
Hairspray sprayed eight inches from face with eyes and mouth closed will create sealer for your makeup.
Baby wipes are a fast and inexpensive way to remove makeup. We use them for the celebrities on the set all the time.
Mud Mask/Wrap: Kitty Litter (100% natural clay only), without additives or chemicals. Combine 1 tablespoon clay with water to create a muddy paste. Apply to face, let dry and slightly harden. Then rinse off with warm water and washcloth. It's easy and refreshing and will feel just like those expensive spa mud masks.
Crush cucumbers into a pulp, and pat over face and neck. Good for oily skin and to unclog pores.
Sweet almond oil will moisturize extra dry skin, help lashes grow and can remove makeup. Will also sooth sunburned skin.
Lemon juice will dry up and help get rid of a pimple.
Crisco oil will remove makeup and moisturize your skin. It can even be used to treat psoriasis and eczema.